Moving can be quite exhausting. Hands down, the most daunting part of the experience is furniture removal. Disassembling, packing, lifting, and reassembling while also making sure all your fragile furniture is well protected is time-consuming and strenuous.
So, how can you ensure smooth furniture removal Brisbane? Shifting your heavy premium items to the new home will require some intense legwork. Plus, you need to start moving your furniture several weeks or days before the move day. But, that's not all.
There are many things to keep in mind when moving furniture. In this article, you can get an overview of all the things you need to consider when packing and shifting furniture. Keep reading to learn some valuable tips and tricks to make your furniture removal Brisbane easier.
Plan Your Furniture Removal Brisbane
First thing first, make a plan. Take inventory of all the furniture you need to move. Next, calculate how much time disassembling and preparations may take. Also, identify what tasks you can complete in advance. Even though you may have to wait till the final moving week to disassemble beds, you can start packing furniture such as bean bags, office desks, and extra chairs sooner. This will reduce both your workload and stress in the final days of moving.
Measure Hallways and Doorways
While you can simply carry smaller items to the new place, some furniture items may be problematic to move. It is a general rule to keep furniture in one piece if it meets the following:
The furniture is not too heavy to lift
It will easily fit through the doorways and hallways
It will not get damaged easily if kept in one piece
Sometimes, disassembling is not even an option – a sofa, for example. If the new house has narrow corridors and hallways, carrying such hefty pieces in may be difficult for you. Therefore, it is important that you take measurements beforehand. Measure all the doorways, entries, hallways, and stairways and match with the dimensions of your furniture.
Order the Right Tools for Moving Heavy Furniture
Now that you know what furniture needs to be moved, and which ones must be disassembled, it is time to get appropriate tools and equipment. Without the right tools, moving heavy furniture will feel like pure torture. Not only will these tools make furniture removal easier, but they will also help avoid moving injuries.
Not sure what to buy? We'll help you! Below is a list of some basic tools and equipment used for moving heavy furniture. If you choose to hire professionals for your furniture removal Brisbane, they will bring all the necessary devices. However, for a DIY furniture move, you may consider buying or renting some of the following:
Tape: Packing tape is a must-have on hand when packing.
Scissors and box cutters: These cutting tools come in handy when cutting tape or movers' wrap during both packing and unpacking.
Gloves: Invest in a pair of gloves with good gripping power as it will protect your hands.
Plastic bags: Plastic bags are useful when disassembling furniture and you can store and label all the washers, bolts, and nuts in separate plastic baggies. When packing, attach labelled plastic baggies with respective furniture. This will enable seamless reassembly when the furniture arrives at the destination.
Moving straps: Also called lashing straps, ratchet straps, or tie-downs, these are fasteners you can use to hold down the furniture and boxes during transfer. By strapping all your furniture on the moving truck, you can avoid shifting and breaking during transfer.
Moving blankets or furniture pads: Moving blankets or furniture moving pads are commonly used by professional movers to protect vulnerable objects. These offer great protection for not only furniture but also mirrors and appliances such as TV.
Movers' wrap: Buy a roll of high-quality movers' wrap if you want to protect your moving blankets from damage. First, cover furniture using moving blankets then wrap it completely in multiple layers of movers' wrap.
Furniture sliders: Furniture sliders are felt or plastic pieces that you can slide under or stick to all the furniture edges. This will protect not only the bottom edges of your furniture but also your floor from damage and scratching.
Furniture dolly: Furniture or flat dolly is a four-wheeled platform you can use to move bulky items such as a heavy couch. This is a great tool to avoid back pain from lifting heavy boxes.
Hand truck: This is a two-wheeled dolly perfect for moving large quantities of items at a time. These will make transportation between your home and truck easy. You can even strap furniture like armoires, dressers, and appliances vertically.
Disassemble Furniture in Advance
Disassembling furniture may sound like creating extra work but it will ensure a stress-free move. How you may ask. Well, it reduces large items and separates the weight. However, as furniture disassembling takes time, start while you still have some days at hand. Begin by removing simple items like mattresses and pillow covers first then proceed to take apart bed frames, tabletops, shelves, and furniture legs.
Disassemble one piece of furniture at a time and store all its washers, bolts, nuts, and other small essentials in plastic baggies. Label the plastic bags appropriately and attach them with the disassembled furniture using movers' wrap. Remember to take pictures of the furniture before and after you dismantle it. This will make reassembly easy.
You do not need to completely dismantle the furniture. For instance, you may choose to remove only the headboard of a bed and transfer the rest as it is. Likewise, you can remove only the joints of a bookshelf and the legs of a table. Determining whether to disassemble a piece of furniture partially, fully, or not at all is easy. Try to identify how difficult it will be to move the furniture out of your current home and into your new home.
Wrap Fragile Items Properly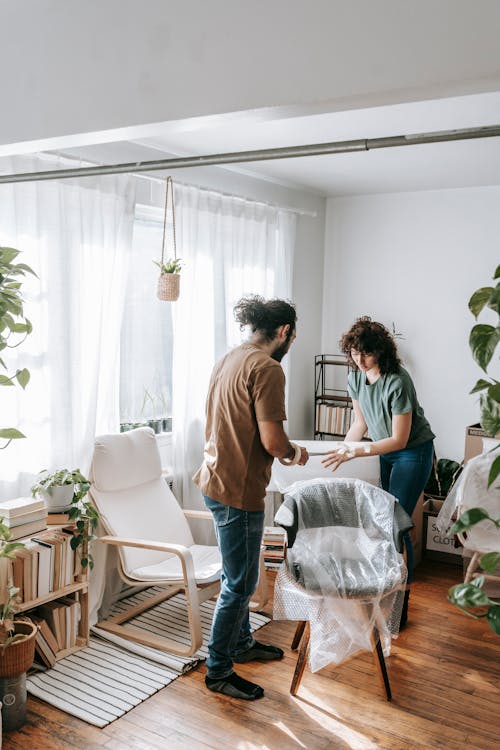 Buy all the packing supplies you need for your furniture removal Brisbane. Plastic bags, bubble wraps, sofa covers, cardboard sheets, tapes and scissors are some common packing essentials you may require. When packing delicate glass or wooden furniture, be sure to wrap them using either packing blankets or bubble wrap.
To protect your furniture from probable scratches during the transfer journey, place cardboard sheets as separators for the wooden items. You may also use dollies and furniture gliders to protect your floors against scratch and scuff marks.
Prepare a Placement Plan
You should have an idea regarding where each piece of furniture will be placed in the new house. Prepare a placement plan to demonstrate the pre-decided place for all the furniture. This will save you a lot of effort and time on the move day. The placement plan will help fit the furniture in the best possible position, leaving adequate space for movement around the house.
By having pre-assigned locations for your items, you can directly carry every piece of furniture from the truck to its designated spot. If you choose to hire professionals, this will make unloading and reassembly easy for the professional furniture removal Brisbane service as well.
Hire Professional Furniture Removal Brisbane
If you are worried you cannot tackle the workload, there is always the option to hire help! Simply contact a furniture removal Brisbane service and enjoy damage-free transfer of all your furniture to the new home. For, there's nothing more disappointing than seeing chiselled and chipped furniture, cracked paintings, wrenched upholstery, or broken glass items.
When you start looking, you will be surprised to find an overwhelming number of moving companies ready to offer help. At Moving Solutions, we offer a wide range of services including complete furniture packing and unpacking services.
Load Heavy Furniture First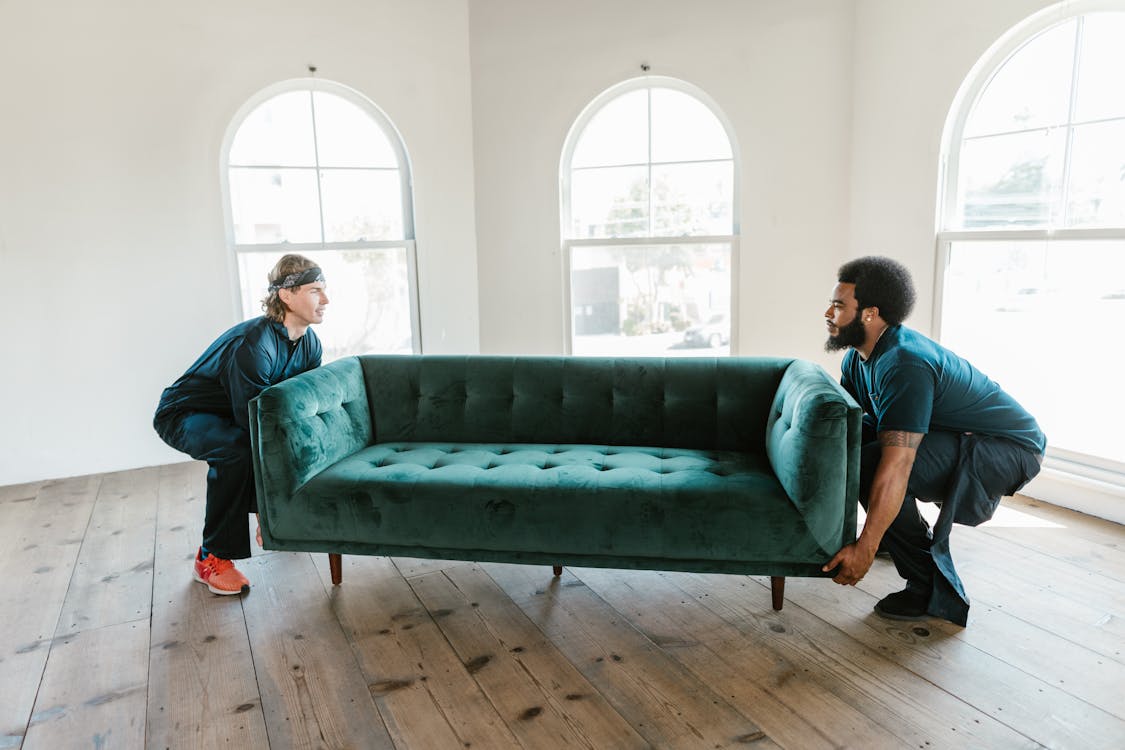 If you decide to outsource the furniture removal, the movers will take care of both loading and unlading. However, if you choose to do it yourself, then there are a few tips for packing a moving truck you must keep in mind. The most important tip is to load heavier items in the truck first. Start by loading sofas, couches, dressers, chests, and tabletops first. Move these to the bottom and then proceed to load the lighter items. Considering the size and weight of these, loading them first will make sure the lighter boxes do not get damaged or crushed.
Final Takeaway
There is no doubt moving furniture is one of the biggest duties that entail a moving journey. However, if you start early and tackle small quantities of furniture at a time, it will be less overwhelming. Don't want the hassle? You can always hire professionals for your furniture removal Brisbane.